Main Page - Welcome to The Hixville Six web site.
Who are the Hixville Six? We like the description given to us by the kind folk at bugbear promotions "Re-model The Stooges into a near country low slung blues punk experience and Elvis has not so much left the building as eaten it." Cool!
LATEST NEWS... THE HIXVILLE SIX ARE PLAYING AT THE CAFE DE PARIS FRIDAY NIGHT ------- ON STAGE 8PM ----- 17TH AUGUST 2007 - ----- -- CLICK FLYER BELOW ---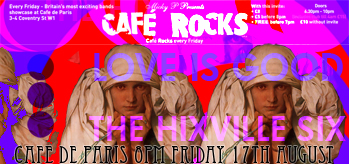 The Six hope the folk who had a copy of their CD enjoyed its vibrancy and several more gigs are planned in the immediate future so come back soon or email hixville6@hotmail.com to go on a mailing list for future events.